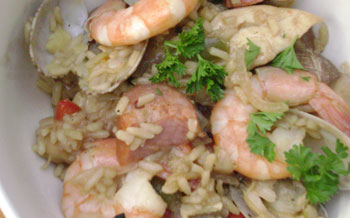 Paella and jambalaya are both dry stews with the rice cooked right in the pot along with smoked sausage and/or ham, chicken and shellfish.
Preliminaries

If the shellfish is frozen, defrost and clean: peel and devein the shrimp, scrub the clams and/or mussels. (The clams in the image above were pulled out of a box of Trader Joe's frozen steamer clams. No scrubbing needed. They tasted quite good considering the ease and convenience.)

Heat pan

And decide what the fat will be:

olive oil

for the paella,

butter

for a jumbalaya.

Heat oil

And start to rummage for the veggies.

Brown chicken

Use the pre-trimmed

"breast tenders"

to save time and calories. If neither are a concern, chicken cooked on the bone is more flavorful, especially legs and thighs.

Pork butt, smoked sausage or large pieces of smoked or spicy ham

can be browned after the chicken. For a paella, brown a few links of

Chorizo

; for the paella use

Andouille sausage

. Meanwhile chop

onion

,

garlic

and

bell pepper(s)

. Pull the various meats out once they are brown on all sides.

Sauté onion, then swirl in rice

As usual, the onion is first. Saute till translucent (or till browned) then add

1 to 2 cups of rice

.

Sauté veggies, spices

The traditional veggies are similar for these two stews, chop:

green pepper

,

celery

and

tomatoes

. If using canned diced or stewed tomatoes, don't be tempted to toss in the whole can; that would make it more saucy than you probably want. Traditional spices for the paella:

saffron

,

annatto

; for the jambalaya:

basil

,

bay leaf

,

thyme

,

cumin

,

paprika

,

mint

,

parsley

and/or

pepper

.

Add the wet ingredients

1/2 cup of wine

,

tomatoes

,

broth

and/or

water

. Use enough to generously cover the ingredients so far plus 1/2 inch. (It may take a few tries to get the liquid right.)

Add back meat(s), simmer

Cover the pot tightly to insure fluffy rice. Cook on low for about as long as your rice will take to cook. Five minutes before the rice should be cooked, gently push the

shrimp

,

mussels

and/or

clams

and/or

peas

into the stew. Recover and cook for another 8 to 10 minutes. Meanwhile prepare the garnishes: chop

parsley

or

cilantro

, slice

lemons

.

Add garnish, serve

When the clams are fully open and the shrimp are pink, decorate with the garnishes, serve and enjoy.